UPDATE – Our Beloved Will went to Rainbow Bridge at the end of August 20,  just 2 weeks before his 16th Birthday. We miss him so much, our hearts are broken.
Comebyanaway Will He Weave AWG SBCHT – born 2004 (2nd generation Jet x Amos)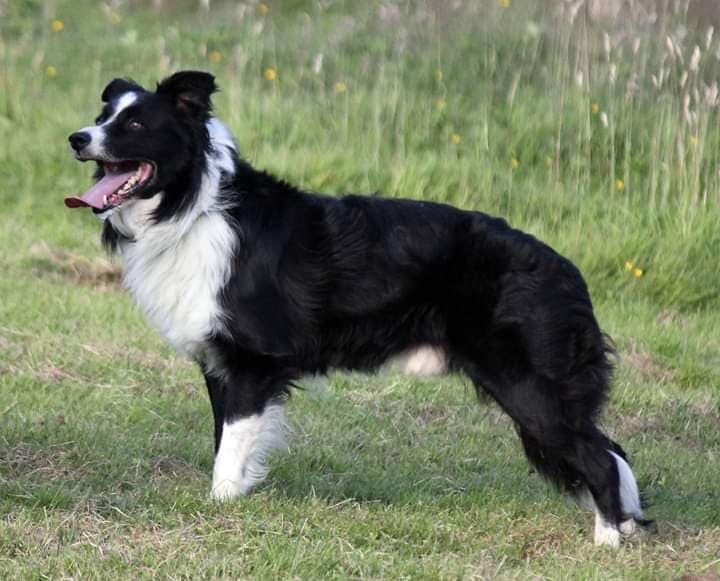 Will is homebred by our Jet and Amos. A very special boy who could turn his paw to anything and is always kind and gentle. Will was Mandy's first properly trained Agility dog, taking her from Elementary to 2 wins off Champ, qualifying for the Starters Cup at only his 2nd show.  Will was also very keen on sheep, resulting in him being Registered On Merit with the ISDS. This then qualified him for the Show Border Collie Herding Test Title, although Will was pure ISDS with his Dad and Grandad being the 2002 English National Brace and 1 Man and his Dog Champion. Will sired 7 litters with us in his lifetime and 4 litters outside of our kennel, putting a very firm stamp on his pups who have achieved incredible results with 5 Agility Champions and 1 World Dog Parkour Champion, multi Tickets in Agility and Obedience and Will pups have represented their Countries many times in Agility, Heelwork to Music, Frisbee, CaniCross and Obedience. Will's stamp of quality continues through his children and grandchildren who are also producing pups who compete at the top level of their chosen sports.

Will's Offspring includes
UK Agility Champion Comebyanaway Reddy for Fame
UK Agility Champion Comebyanaway Reddy to Tri
UK Agility Champion Comebyanaway Redefined
KUSA Agility Champion Comebyanaway Lady in Red
KUSA Agility Champion Comebyanaway Reddy to Shine
KUSA Agility Champion Comebyanaway Bonny Lass
All Dogs Parkour Grand Champion and Belgian, Swiss, Italian Freestlye Champion Comebyanaway Redy to go Fast
British Open Agility Winner Nedlo What's the Story
UK Obedience Ticket Winner Nedlo What's It All About
UK Agility Ticket Winner Nedlo Strictly Classic
Will is now enjoying a very well deserved retirement, his favourite day is keeping his son and great Grandson under control, getting the best bed by the fire and finishing off Mandy's Weetabix every morning.